Hand Crafted, High-Quality Aftermarket Ute Covers Made in Australia

Your Quality Alternative for Tonneau Covers
As premium tonneau cover manufacturers, Ute Covers Direct offers you a quality aftermarket alternative to ute tonneau covers sold by the car dealerships, and at a far better price. With our wide range of custom tonneau covers, suiting various popular ute makes and models, you can enjoy quality without the upsell. 

Our current tonneau cover range includes options for utes from Ford, Holden, Mitsubishi, Volkswagen, Mazda, Proton, Foton, Great Wall, Nissan, Toyota, Isuzu, Mercedes and LDV. As all tonneau covers for sale are made by us, we guarantee that our products will fit your vehicle like a glove. We also offer a comprehensive range of spare parts and accessories, including the well-known 303 Aerospace Protectant, so that you can clean and shine your tonneau cover to keep it in pristine condition. We also have tonneau cover clips available so if one does break, you don't need to replace your entire cover.
Australian Owned for Tonneau Covers You Can Trust
When you buy a tonneau cover online from Ute Covers Direct, you're supporting a family-owned and operated business that designs and manufactures its products right here in Australia. As a proud Australian manufacturer with over 25 years of experience, you can buy your tonneau covers from Ute Covers Direct with complete confidence, safe in the knowledge that we only use top quality materials in their production, which have been tried, tested and proven to work over many years. We take a quality-first approach in our business philosophy to ensure that we can consistently produce a high-quality and robust product. This includes specifically designing and engineering our aftermarket tonneau covers to last for many years in Australia's harsh and unforgiving climate.
Learn More About Us

Made for Easy Installation With Optional Fitting Services
We know that your ute is important to you. That's why we always aim to create and sell tonneau covers online that meet, if not exceed, your expectations, while allowing you to save money. This includes our approach to tonneau cover installation. Our tonneau covers do not need to be fitted by a professional installer, saving you time and money. Instead, our tonneau covers and fittings have been designed with the average handyman in mind. However, we do offer a fitting service at our factory in Kilsyth, Victoria. Additionally, most of the major and independent aftermarket auto stores offer a fitting service and can assist you with any tonneau cover we have for sale.
Book Your Tonneau Cover Fitting & Installation
Manufacturing & Supplying Quality Ute Covers Australia-wide for Over 25 Years
We believe in and constantly strive to ensure our products and services are better than the rest. When you buy a tonneau cover from us, organise a fitting, or contact us about anything else, here's what you can expect.
Whether you're buying a hard or soft tonneau cover, we want this to be as simple, convenient and enjoyable as possible for you. This is why we have designed our site to make it easy to quickly find tonneau cover options that suit your vehicle. We also endeavour to respond swiftly to any enquiries you may have to help you find just the product you need.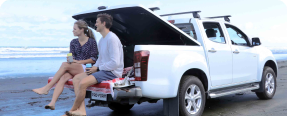 By selling our soft fold tonneau covers and more directly to you, we can offer you a high-quality product at an ultra-competitive price. You can be confident that when you shop at Ute Covers Direct, you are getting a great product, along with a full 3–year warranty and a 'no-fuss' money-back guarantee. We are also always looking to know how we can improve our products, so we would love to hear from you.
When you buy a tonneau cover from Ute Covers Direct, you're helping to support Australian manufacturing jobs. As a result, you can trust that the product you have bought is made to our exacting standards and is an example of our renowned high-quality workmanship.