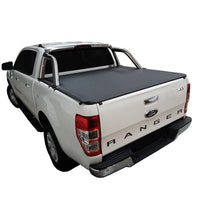 ClipOn Ute/Tonneau Cover for Ford Ranger/Raptor PX II XLT, PX III XLT (June 2015 - 2022) Double Cab suits Factory Sports Bars
Main Description
Our tonneau covers are designed to keep your ute load and tools out of sight from potential thieves, protect your cargo from the harsh Australian weather, and help to keep your load secure while driving. All drilling and riveting is internal to the tub ensuring a neat, sleek and modern look. Black in colour. Hidden stretch cord system underneath the tonneau cover also accommodates for a higher load that traditional bunji style covers cannot provide. Designed and manufactured at our premises in Bayswater, Victoria. Our ClipOn tonneau covers do not suit the genuine vehicle manufacturer's hardware. The supplied fitting kit will need to be installed. Our tonneau covers are manufactured using a very high quality vinyl suited to stand the test of time.
FEATURES
✓ Lightweight but incredibly strong 680gsm PVC marine grade vinyl
✓ Rip-Stop reinforced (tear resistant)
✓ 100% waterproof material
✓ Will not shrink or stretch, U.V and fade resistant
✓ Drilling required on the internal part of the tub only
✓ Australian Made 
✓ Anti-crack, U.V resistant plastic clip extrusion sewn underneath the cover
✓ Hidden stretch cord system to compensate for higher than normal ute loads
✓ CNC milled and drilled machine cut aluminium
✓ Gold passivative coated support bars to allow water run-off
FITTING
✓ Friendly DIY Fitting
✓ Easily removable within a minute
✓ Can be installed at our factory for extra costs. Please enquire using the installation tab at the top of the page.
VARIATIONS (what each product suits):
Without Headboard, With Factory Sports Bars, With No or Under Rail Tub Liner.
WARRANTY
✓ 3 Year Warranty