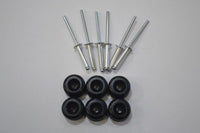 Pack of 6 Tonneau Buttons and Rivets
Main Description
✓ Rope buttons for the bunji loop or stretch cord to 6mm (pack of 6).
✓ Will suit all makes and models of tonneaus and utes.
✓ Durable heavy duty plastic
✓ 18mm diameter
✓ 12mm height
✓ Aluminium rivets are also supplied with the rope buttons (pack of 6).
✓ 9-12mm grip length
✓ 4mm diameter