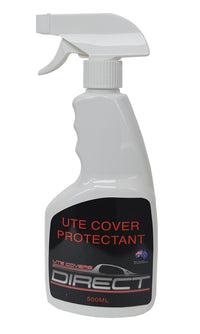 Bottle of Ute Cover Protectant Spray (500mL)
Directions of use:
Ensure the cover is cleaned with Ute Cover Cleaner.
Spray directly onto the Ute cover or into a damp cloth.
Wipe over the cover evenly with a clean dry cloth.
Leave to dry naturally.

Safety Directions:
Keep out of reach of Children.
As a precaution wear gloves and safety glasses.
Ingredients are classified as Non Hazardous. Biodegradable. Non Toxic.